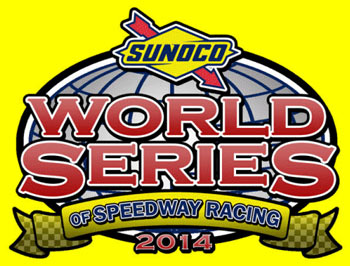 -
Sat.-Sun., Oct. 18-19, 2014
THE WIN

IN THE
GRANITE STATE PRO STOCKS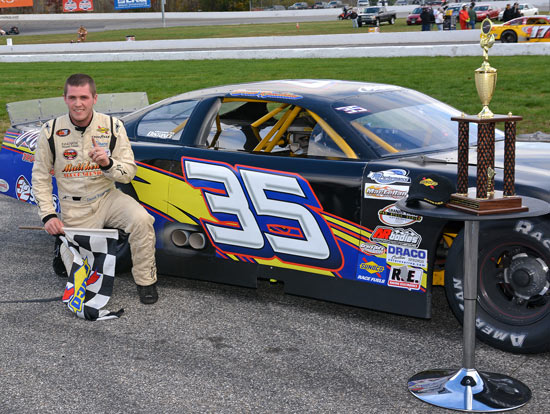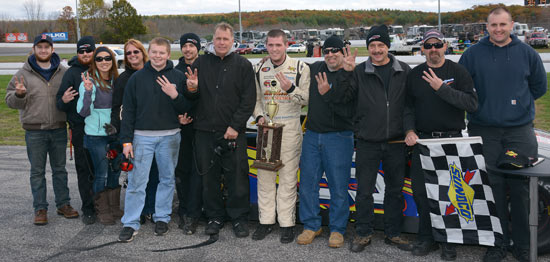 AND 27TH IN THE WHELEN MODIFIEDS
AFTER A LAP 117 WRECK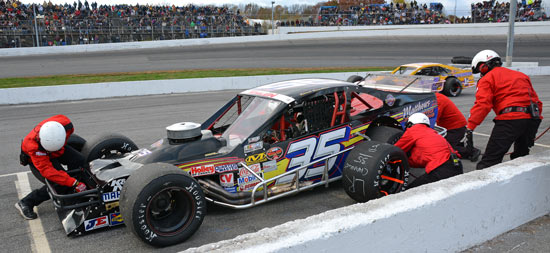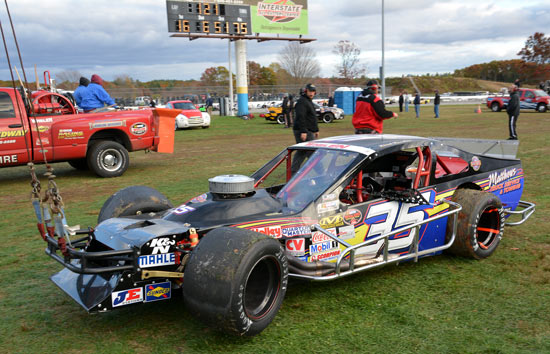 ---
SATURDAY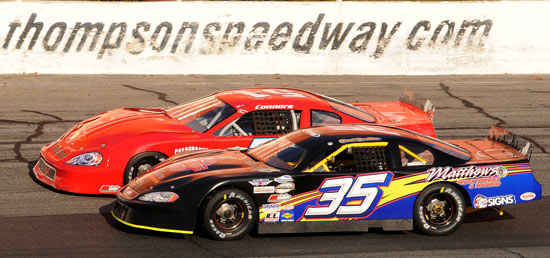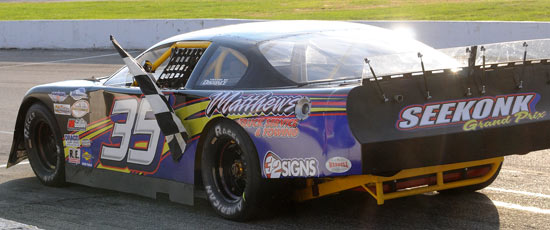 Derek Takes the Heat #1 Win on Sat.
in the Granite State Pro Stock Series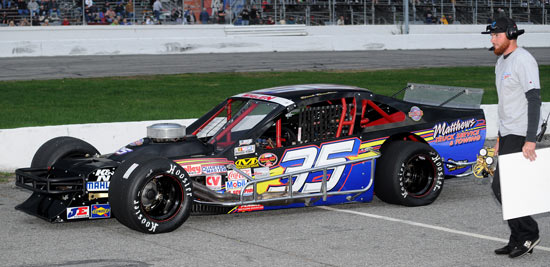 Derek in line for time trials for the
NASCAR Whelen Modified Tour
just before the rain came Sat. afternoon.
After the track dried out, Derek
qualified 18th out of 36th.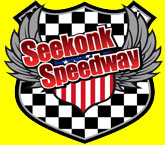 D. Anthony Venditti Memorial
Sunday, October 5th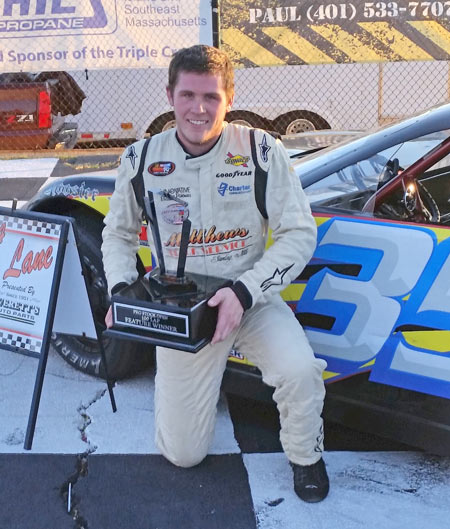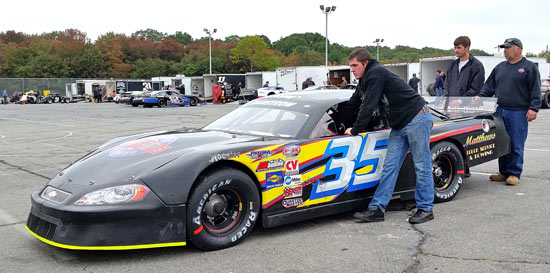 Photos by

Stephanie
Jordan
Hot off the biggest win of his career in the Pro All Star Series 300 at Beech Ridge Speedway in Scarborogh Maine, Derek Ramstrom arrived to try the D. Anthony Venditti Memorial 100 and came away with another big win and the $5K check to prove it. Ramstrom has spent time on the Seekonk bullring and was able to convert it to a big win, despite being knocked out of the lead in a spin with Tom Scully, Jr. on Lap 20. Ramstrom worked his way back to fourth to find Scully in fourth and 30 laps remaining. Ahead of Scully was 2014 champ Kenny Spencer and leading was multichampion Dave Darling, who excels at winning extra-lap features.

Ramstrom steeled himself, navigated past Scully, then set out after Spencer. Spencer had been hunting down Darling. He was rebuffed in a lap 82 restart and Ramstrom came forward to take him on. He dropped below Spencer on lap 86 and then went to second just before Kevin Folan got into turn four dirt and Bob Hussey spun on the loose sand kicked into the turn.
Darling and Ramstrom set upw tiht Spencer and Dick Houlihan at their backs. Darling pulled away fast and Ramstrom used Darling's technique of dropping under for the pass but was unable to convert. The field strung out with Ramstrom a half car back. Ramstrom looked under again and Darling got loose in the turn. Derek leapt in and they went door-to-door on lap 95. A lap later, he had his nose past Darling and he continued to edge forward.

Darling looked for the cross under on lap 97 but Ramstrom held him off. They battled nose-to-tail through the white flag lap and Darling gave him a quick punt in the last turn, but Ramstrom held it straight and ran across the stripe just .144 seconds ahead. Spencer roared across on Darling's tail with Houlihan and Dean Petty rounding out the top 5.

It had been a tough race with 16 cautions spread across the 100 laps. The longest stretch of racing was 16 laps, between laps 66 and 82. The first quarter of the race saw eight cautions slow progress down to a crawl, even though the first ten laps ran fast and smooth.

Dean Petty jumped off the outside pole Into the lead with polesitter Angelo Belsito on his trail. Ramstrom, strating third, dueled with Belsito and took second on the lap 10 restart, following Petty underneath. Radical Rick Martin engaged Belsito over second and Mike Brightman fought it out with Tom Scully Jr. behind them. Ramstrom got under Petty and took the lead out of turn four on lap twelve. Martin kept Petty outside and grabbed second before Belsito spun in turn four on lap 15.
Scully went under Ramstrom on the restart from low in the second row; there was contact and they spun to the infield off turn three, sending both to the rear as a host of cars ran to the pits for repairs.

Vanasse had worked his way up from tenth and was next to lead, outrunning Martin on the restart. He held the front to lap 44, dodging with Darling for the distance. This involved three restarts until Jake Vanada spun in turn one of lap 44.

Vanasse and Darling went door-to-door with Martin and Spencer doing the same behind them. Vanasse began to experience difficulties with his car and went backwards, almost taking Spencer up to the wall. Martin also went off pace and Spencer almost was victim again, but avoided both hazards with some miraculous driving skills. This set Darling free to take the 50-lap cash prize. And he headed off to a 15-car lead over Vanasse, who had recovered. It was another 20 cars back to Scully, Kevin Casper, Spencer and Martin. Darling was into his first lapped traffic on lap 54.

Caution flew as Hussey got sideways on the track in lap 57 then limped to the pits.

The restart saw Darling escape Vanasse. Scully and Vanasse battled for position, but Spencer saw an opportunity and went underneath and into second on lap 60. Vanasse's problems returned and he began to backslide. He went to the pits on lap 64.

Lap 66 saw Martin spin out of turn two and Folan was around just beyond. Ryan Lineham ended up by the backstretch wall with extensive front end damage. He was towed to the pits. Now Darling and Spencer would lead the restart. But Scully had toiled back to the front and was below Houlihan in the second row, and Ramstrom was behind him, inside Tom Scully, Sr.

Petty had come back to seventh, restarting alongside Casper.
Darling pulled away but Spencer began to chase him down. Ramstrom pulled up to Tom Jr.'s bumper then went under to third and set off after Spencer.

It took him 15 laps to get past Spencer and another ten to best Darling for the lead. Another wild four laps, with Darling emptying his bag of tricks to take the front back and Ramstrom had won the Fall Spectacular 100.

Brightman grabbed sixth and Scully, Jr. seventh. Vanada followed and Larry Gelinas, Belsito, Folan, Billy Brady, Hussey, Davis Silvia and Craig Weinstein completed the top 15.
-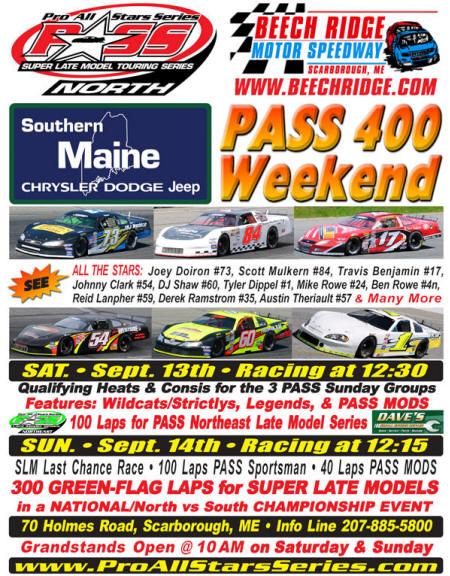 DEREK WINS THE 300!

DJ SHAW #60 SECOND & AUSTIN THERIAULT #57 THIRD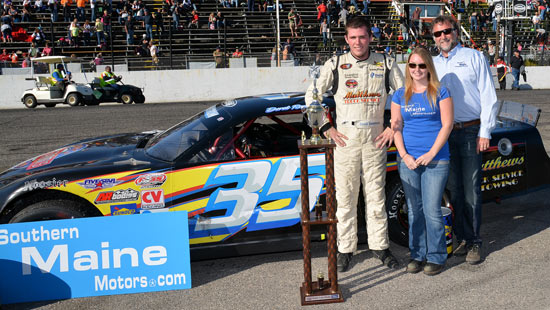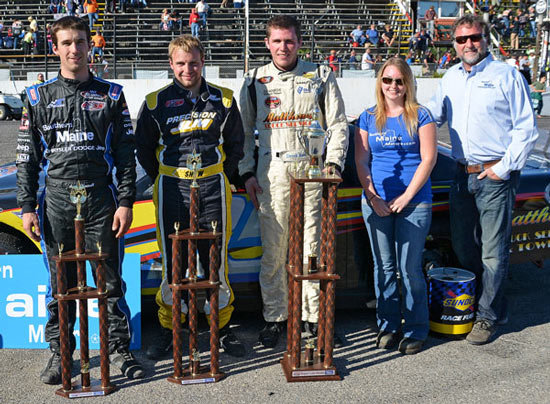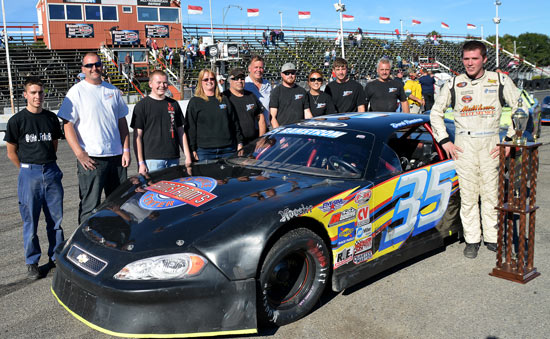 The Closer: Ramstrom's Late Nudge Leads to PASS 300 Win
By Brandon Paul
Speed51.com Northeast Editor

One year after missing the majority of the 2013 racing season with a broken foot, Derek Ramstrom scored the biggest win of his Super Late Model career Sunday afternoon at Scarborough, Maine's Beech Ridge Motor Speedway. Ramstrom used a bump-and-run move on Pro All Star Series North (PASS) point leader DJ Shaw with two laps remaining and pulled away to win the Southern Maine Chrysler Dodge Jeep 300.
"It's incredible," Ramstrom said after the race. "Last year I broke my foot and we were out for most of the season so that was kind of a wash. This year we've been poking around a bit with the (NASCAR Whelen Modified) Tour car and that's tough adjusting to that. Then with the PASS Tour, we've finished top 10 every race. It's definitely very nice to get a win here."


SUNDAY, JULY 20TH




7TH AT THE 250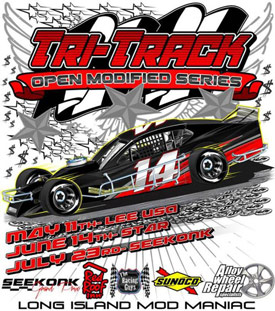 THE SBM 125
STAR SPEEDWAY
SATURDAY, JUNE 14TH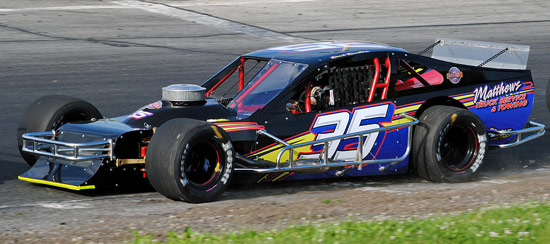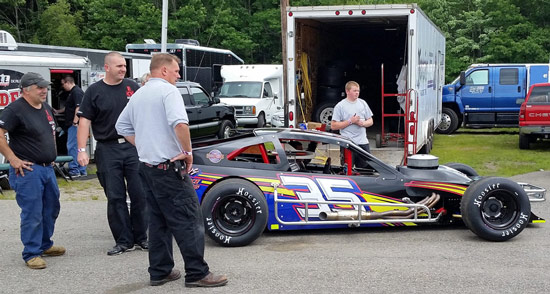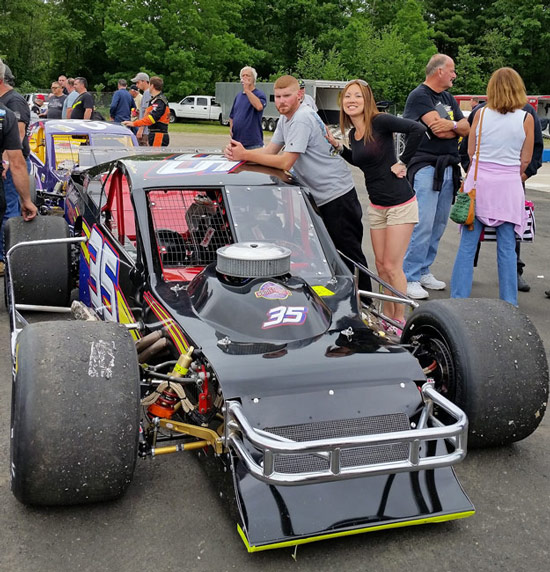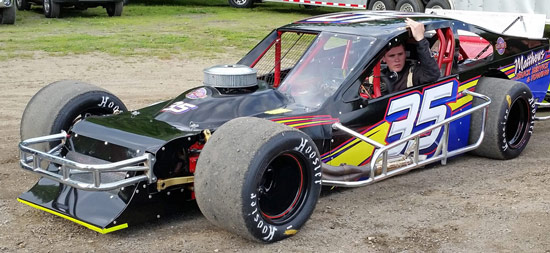 FIRST RUN FOR THE MOD - 10th PLACE
Photos by




Stephanie Jordan

Photos by
Rich Hayes

Saturday, May 31st
6th at PASS North WMMP

Saturday, May 10th
6th at PASS North Star Speedway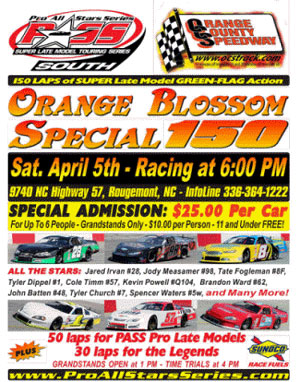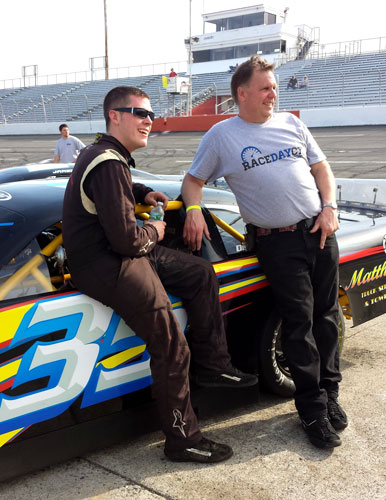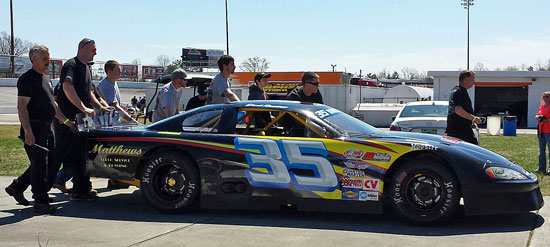 Photos by Stephanie Jordan
13th at PASS South Orange County
At the first 2014 race for the Super Late Model, the #35 was strong right from unloading from the trailer for Friday practice. With just a few changes Derek was able to run in the top five on the time sheets.

During the last practice session the panhard bar broke. That causied the drive shaft to snap in half, which crushed an oil line by the drive shaft hoop. Luckily Jay Folgeman (who ran the #35 to third in the Oxford 250 in 2013) let the team use his race shop in Durham, NC to insure the repairs were complete and the setup was perfect. The work went well, but it was a 2 AM finish time.

Next day at the track car felt good, ended up timing 4th place. After the Top 10 redraw, Derek started in fifth.

The #35 ran well for the first 60 laps. But then the motor started to skip consistanly with a possible ignition issue. Derek dropped back to about 10th at one point in a tough race where half of the 28 starters had retired by the 100 lap mark.

On lap 119 the motor first loaded up coming out of turn two and then cleared out, causing the car to get sideways and hit the outside the wall. A 13th place finish was the result.
THE 2014 SEASON SHAPES UP
Derek plans on putting most of the focus in 2014 on the PASS Super Late Model program. The team will head down to Rougemont, NC for a PASS South 150 lap event at Orange County Speedway for Derek's first race of the season.

Highlights of the PASS SLM season will be the Oxford 250 and the Southern Maine Motors 300.

Derek has had only one test ride in a Tour Type Modified before this year. So a limited Modified schedule is planned to
start slow and shake out the cob webs. The first events will be two races that are part of the new Tri-Track Open Modified Series - May 11th at Lee and June 14th at Star. The third race will be at Seekonk on Open Wheel Wednesday on July 23rd.

The first NASCAR Whelen Modified Series race with the big boys will be June 21st at the Waterford Speedbowl. Two Thompson (including the World Series) and one Stafford Whelen races will follow later.

October 4th will see Derek at the DAV Fall Classic SLM open race where Derek posted a Win in 2012 and a 2nd in 2013.

Derek is shooting for a couple of PASS wins in 2014 after mechanical failures and some bad luck marked the 2013 PASS effort.

The Ramstrom Racing Team has been working hard all winter to better prepare the #35 SLMs and MOD for an exciting race season.

Our thanks go out to Matthews Truck Service and Towing of Sterling, MA for their support. The help preparing the cars and the continued funding of expenses makes it possible for Ramstrom Racing to compete this season.

matthewstruck
service.com
Sterling, MA

-
2014 SCHEDULE
SLM = Super Late Model
MOD = Tour Type Modified
-
April 5th - Orange County Speedway
Rougemont, NC -

SLM


PASS South
The Orange Blossom Special 150

May 10th - Star Speedway
Epping, NH - SLM


PASS North 150



May 11th - Lee USA Speedway
Lee, NH -

MOD


Tri-Track Open Modified Series
Bullring Bash 100

May 24th - White Mountain Motorsports Park
North Woodstock, NH -

SLM


PASS North
Littleton Chevrolet Buick 150

May 31st - Southern National Motorsports Park
Lucama, NC -

SLM




PASS South


The Dogwood Blossom 150

June 14th - Star Speedway
Epping, NH -

MOD


Tri-Track Open Modified Series
SBM 125

June 21st - Waterford Speedbowl
Waterford, CT -

MOD




NASCAR Whelen Modified Tour




Mr. Rooter

161



July 20th - Oxford Plains Speedway
Oxford, ME -

SLM


PASS North/National
The Oxford 250

July 23rd - Seekonk Speedway
Seekonk, MA -

MOD


Open Wheel Wednesday
Tri-Track Open Modified Series
Modified Madness 100

Aug. 9th - White Mountain Motorsports Park
North Woodstock, NH -

SLM


PASS North 150

Aug. 13th - Thompson Speedway Motorsports Park
Thompson, CT -

MOD


NASCAR Whelen Modified Tour
Budweiser King of Beers 150

Sept. 14th - Beechridge Motor Speedway
Scarborough, ME -

SLM


PASS North/National
Southern Maine Motors 300

Sept. 28th - Stafford Speedway
Stafford Springs, CT -

MOD




NASCAR Whelen Modified Tour


NAPA Fall Final 150

Oct. 4th - Seekonk Speedway
Seekonk, MA -

SLM


D. Anthony Venditi Fall Classic

Oct. 19th - Thompson Speedway Motorsports Park
Thompson, CT -

MOD


NASCAR Whelen Modified Tour
World Series 150

Nov. 15th- Southern National Motorsports Park
Lucama, NC -

SLM


PASS South/National


Mason-Dixon Meltdown 200


www.ProAllStarsSeries.com

hometracks.nascar.com/series/whelen-modified-tour

TriTrackOpenModifiedSeries.com

Derek Ramstrom To Test The Waters Of The NASCAR Whelen Modified Tour In 2014
November 26, 2013
- By
Former Thompson Speedway Super Late Model champion and Pro All Stars Series regular Derek Ramstrom has built a reputation as a driver to be reckoned with in full-bodied racing across New England and beyond. But the West Boylston, Mass. driver is ready to dip a toe into the waters of open wheel racing. FULL STORY HERE